Class 3 - Mr Weighman's Class
Our Autumn Term 1 whole school topic is 'Our Beautiful Bodies'. We are reading 'Wonder'by R.J. Palacio. We are learning about writing to inform and instruct in English, learning about 'Teeth' and 'Diet and Exercise' in Science and in Maths we are learning about 'Place Value'.
P.E. takes place on Monday afternoons and Friday afternoons so please ensure kits are in school all week.
Music is on Tuesday afternoon - please make sure instruments are in school every Tuesday.
Spellings are sent out on Friday and tested on the following Friday.
Homework books are also sent out on Friday and need to be returned before the following Thursday for homework to be seen.
Please sign our guestbook and let us know if you see or read anything that you enjoy, we love reading the comments!
Comments (50)
Show Comments
unknown
(about a week ago)
Sounds awesome this term and class three is the best.
Sophie
(less than a month ago)
I love Barton school!!! All of the teachers are nice especially Mr Weighman in class three we are doing loads of fun experiments. And the school wouldn't be the same without Mrs Coates and Mrs Stephenson. That's why everyone loves our school.
Sophie Murray class 3
(less than a month ago)
i love our school everyone is nice and caring. All the teachers and teacher assistants are really nice
Abigail Wooff
(less than a month ago)
Our teacher is the best
Abigail Wooff
(less than a month ago)
Awsome! Web page.
Sophie Murray
(a couple of months ago)
i love class three it is so fun we also have a funny teacher.but the other are not as good as Mr weighman HA HA.
Diana
(a couple of months ago)
Class 3 is the best! We have loads of enjoyable activities and games as well as learning everything we need to. The Viking battle was amazing, and the Viking bread we made had a unique taste
charlotte
(a couple of months ago)
I loved going to the centre of life it was sooooooooooo FUN!!!!!!!!!!!
Jake
(a couple of months ago)
We are so awesome
jacoub
(a couple of months ago)
i think that all the games are very unique and that class 3 have very good potential
Show More Comments
We have started two experiments:
"Why Should We Wash Our Hands?"
and "What Effect Can Liquids Have On Teeth?"
What do you think will happen to our eggs and bread?
Our hand washing experiment has sadly come to an end as even the washed hand piece of bread is now very mouldy! Interestingly, we noticed the corner of the control where it was touched has a circle shaped mould patch.
Wild West Puppet Shows
To finish off our Wild West whole school topic we wrote play scripts and created our own characters and setting props.
Have a look at a selection below.
Wassily Kandinsky
We looked at Kandinsky's abstract art pieces this week. Here are a few of our own interpretations.
Transition Days
Our future Year Four children joined us in Class Three this week to find out what it will be like in September.
We made some skeleton rib cage models and some 3D teeth ready for our 'Beautiful Bodies' topic next year!
Can you guess who is who?
Leave a comment in the guestbook with your guesses!
WE WON! Our year sixes won the North Yorkshire Sumdog Competition - answering an average of 884 out of 1000 questions correctly! Year four and five achieved a Daily Winner award. Also for the first time we had two top ten students! Check out our certificates below!
Elm Ridge Methodist Church Trip
We had a lovely trip to Elm Ridge Methodist Church in Darlington as part of our 'Special Places' R.E. topic. It was extremely interesting to find out that it started out as a house and the story of how it became a church.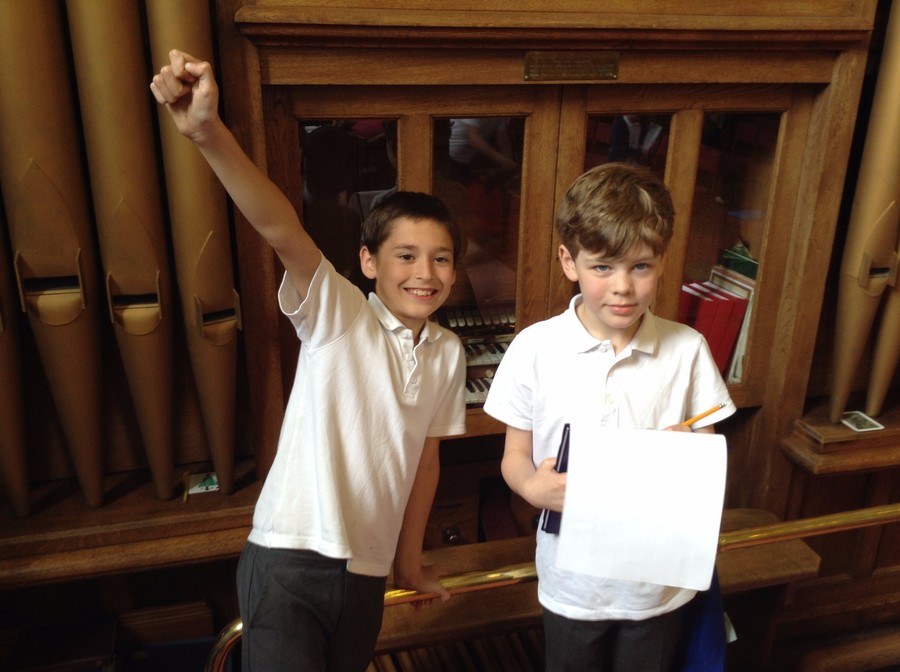 A horrible bunch of Vikings invaded Barton School armed with personally designed shields and helmets! They played Viking board games, baked Viking food, fought each other and wrote about fierce battles.
We have read, watched and listened to lots of different Viking sagas this half-term and this week we drafted some sagas of our own.
"Biorn drew his mighty sword and charged. At first the monster did nothing. It just stared at the Viking gormlessly. But as Biorn ran at it, about to strike it with his sword, it stood up and stomped a giant foot sending Biorn flying!" Lydia
"Biorn draws his sword and bangs it against his battle-worn shield. Subsequently, the thundering clamour grabs the monster's attention and he lets out a deafening roar. Biorn – who has a short temper – stares at the town that is now set ablaze." Diana
"Long stairs wind themselves around Valhalla. Cool carvings and nightmarish symbols on an immense fiery palace. Scorching flames licking the walls. This is Biorn's version of paradise! Biorn set out on his worthy quest to find a valiant death." Joe
We LOVED our 'Space' topic! To enter our Astronaut Testing Area click here
Something is Odd In Class Three.....
Check out our artwork and short story introductions inspired by the first page of Shaun Tan's 'The Odd Thing'.
We read 'Wolf' by Gillian Cross as our class reader to go with our Traditional Tales writing topic. Here are our first drafts of descriptions of Goldie's house from the first time Cassy visits. Our writing focus was on creating an atmosphere to entice the reader. Please let us know what you think by leaving a comment in our guestbook!
Here are our descriptions of the 'mysterious man' that Cassy meets at Goldie's House. We were focusing on using precise phrases to aid and develop his personality through our narratives.
What was life like in 1455?
We have been using our investigation and research skills to find out differences in lifestyles of the rich and the poor
around the time of the War of the Roses.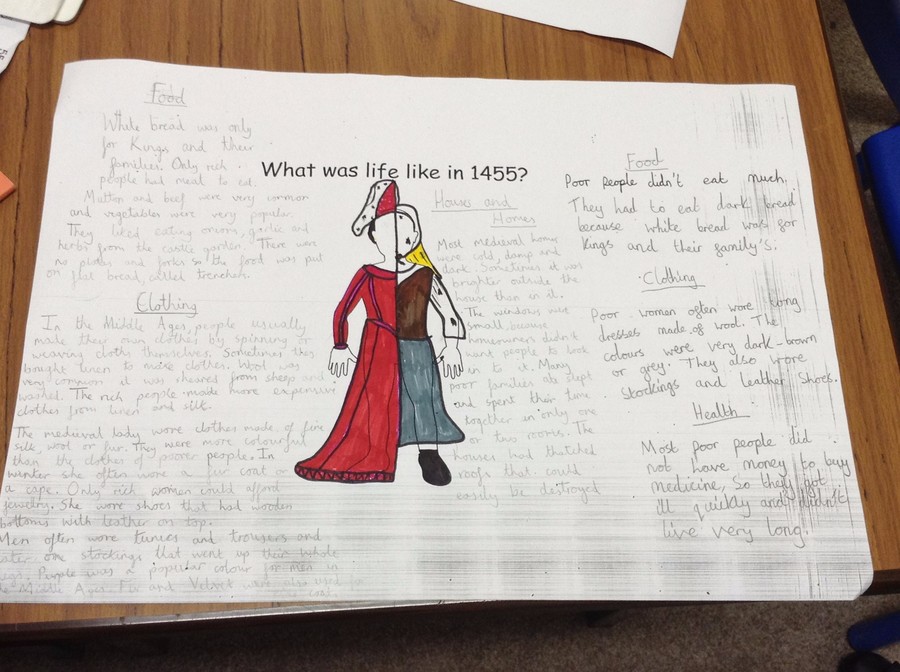 We're hatching a plan...!
We like to carefully plan, edit and re-draft our writing to make it precise and so we can get it to be just how we like it!
We programmed our own Scratch games in Computing.
Why not ride 'Santa's Sleigh' by Jacoub? Have a 'Tour of the School' by Lottie or solve Joe's tricky maze puzzle?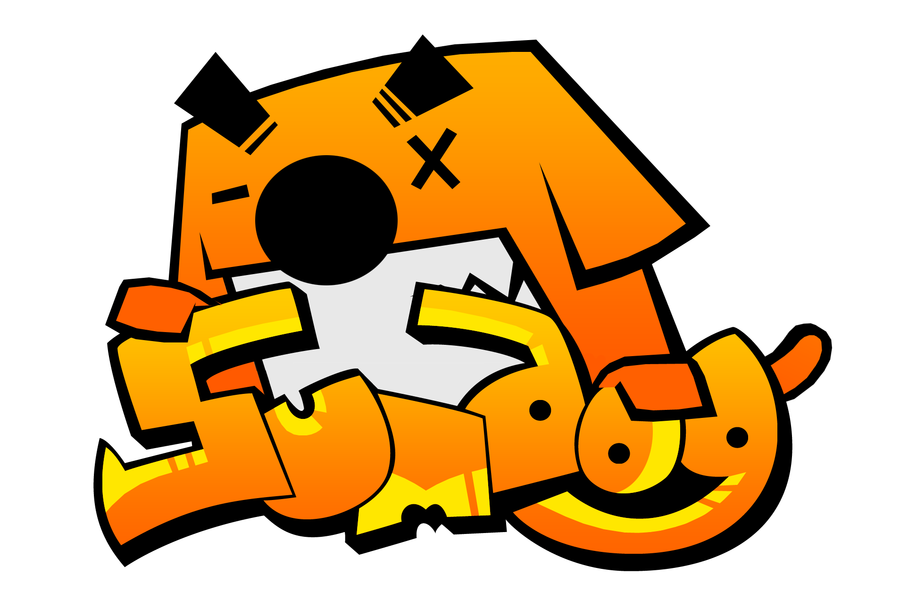 You can play Sumdog at home on most tablets and computers
(it's free to download and play!)
The school code is: bartoncofe
Please see Mr Weighman if you've lost your login or can't get it to work!
In March we finished in second place overall out of the whole county!